Metatarsalgia
Pain beneath the heads of the metatarsal bones
Metatarsalgia causes pain on the underside of the front part of the foot, just before the point where the toes start. The symptoms occur primarily while walking or standing.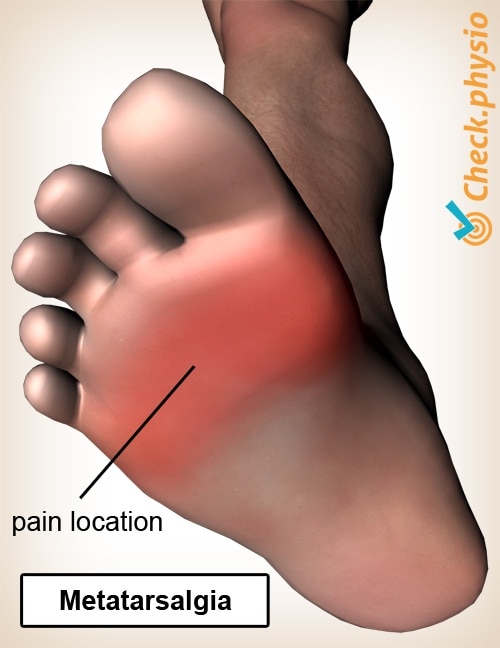 Metatarsus is the Latin name that specialists use to refer to the mid-section of the foot.
Description of condition
The area beneath the heads of the metatarsal bones is overloaded, which causes pain. Excess pressure on one or more of the metatarsal bones can cause the tendons and the periosteum around the head of the bone to become inflamed and cause symptoms. Sometimes callouses or corns will develop on the underside of the foot at the site of the excess pressure.
Cause and history
Various factors can play a role in the development of the symptoms. As we age, the fat pad under the foot may become thinner, causing an increase in pressure on the heads of the metatarsal bones. Shoes with high heels also increase the pressure on the metatarsal bones. The same applies to insoles that do not offer the correct type of support.

Another cause is thought to be developing inadequacy of the inner arch of the foot. This may lead to incorrect distribution of the pressure in the foot, resulting in metatarsalgia. Decreased load capacity of one or more of the metatarsal bones can also result in a relative overloading of the adjacent metatarsal bones.
Signs & symptoms
Pain in the front part of the foot, particularly on the underside.

The symptoms occur while walking and standing.

Start-up pain (moving after an extended period of rest, for example in the morning).

Swollen front part of the foot due to accumulation of fluid.

Callouses and corns under the foot.

Sometimes there will be pins and needles in the toes.


These symptoms are shared with hallux valgus (bunion) and/or hammer toes.
Diagnosis
Treatment
Treatment is aimed at achieving improved distribution of the pressure in the foot. This can be achieved by reducing excess weight or by modifying footwear by lowering the heels and wearing insoles. Surgery may be considered for persistent symptoms. The surgery is aimed at removing the cause of the problem.
Exercises

You can check your symptoms using the online physiotherapy check or make an appointment with a physiotherapy practice in your locality.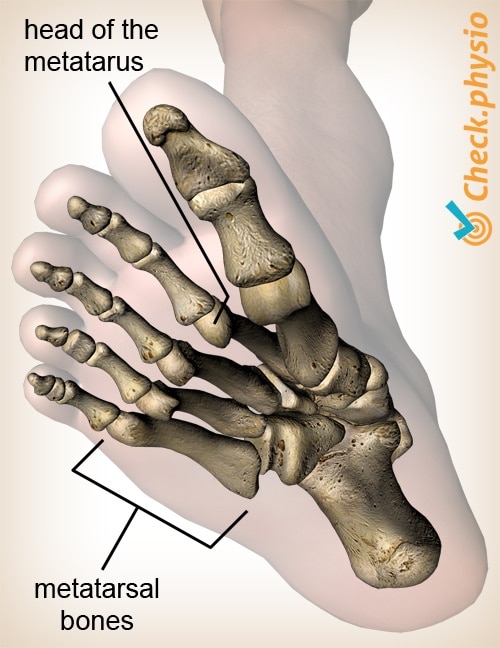 References
Schreuder, H.W.B. (2007). De voet. De basis voor staan en gaan. Nijmegen: Thieme.
St. Jans Gasthuis Weert (2008). Metatarsalgie. Patiënteninformatie. Poli Orthopedie.