Dysfunction of the rib joints on the back
Costovertebral pain / costotransverse pain
Pain in the upper back can have various causes. Sometimes it is a problem with the ribs that are attached to the spinal column along the back. This causes symptoms during various movements of the upper back and chest.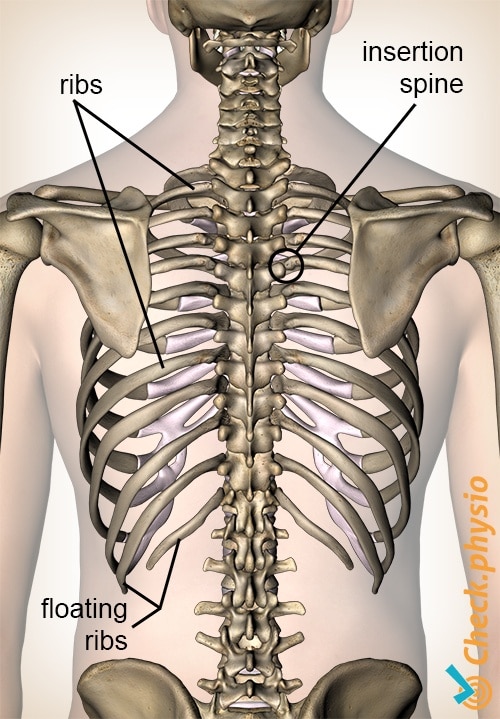 The ribs (costae) together form the chest or rib cage. Along the front of the body they are connected to the breastbone (sternum). Along the back of the body they are connected to the spinal column through joints. These joints are called the costovertebral and the costotransverse joints.
Description of condition
If a costovertebral and/or costotransverse joint is affected, we refer to this as costovertebral and/or costotransverse pain. This can be explained more simply as pain in the back caused by a problem with the rib joints.
Cause and history
Signs & symptoms
Pain along the back of the (upper) back.

The pain may radiate forward or sideways over the ribs.

Usually the symptoms are located on one side of the back, unless the rib joints on both sides are affected.

Pain when bending forward or sideways with the upper back/chest.

Pain when rotating the upper back/chest.

Pressing on the rib (joint) makes the symptoms worse.
Diagnosis
Treatment
Exercises

You can check your symptoms using the online physiotherapy check or make an appointment with a physiotherapy practice in your locality.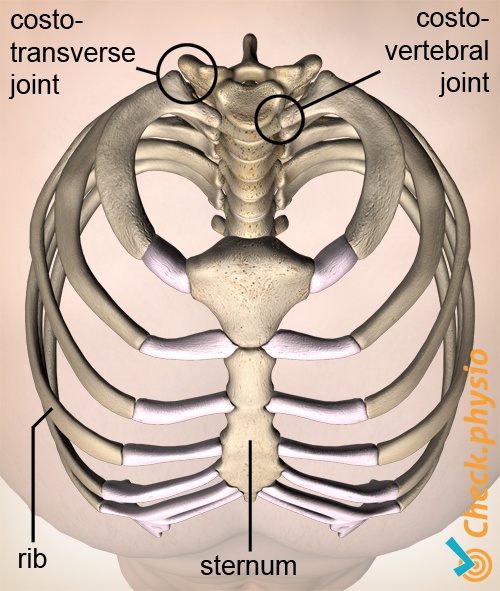 References
Fruth, S.J. (2006). Differential diagnosis and treatment in a patient with posterior upper thoracic pain. Phys Ther. 2006; 86:254-268.